Teslin Biomass Project
In 2017, the Teslin Tlingit Council of Teslin, Yukon proceeded with a district-heating project that would use locally-sourced wood chips for fuel. The biomass district heating provides cost-efficient heating of large areas and creates an anchor client with guaranteed demand for the community sawmill. In the future, additional buildings can be easily included in district heating. The biomass project delivers local and regional economic benefits through the sawmill and the community's participation in providing biomass wood-waste from permitted timber harvesting and incidental harvesting of wood-waste. The permitted timber harvesting also reduces the high fire-risk from the significant over growth in the surrounding forest.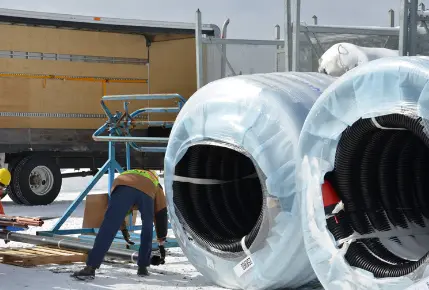 Lower Mattagami River – Project Camp
In 2011, Ontario Power Generation was due to start redevelopment of the Lower Mattagami Hydroelectric Complex. As the Complex is located in a remote area of Northern Ontario, a camp would be required to house the more than 600 workers involved in the project. In addition to the individual rooms for the workers, the camp would also need an office complex, a kitchen/dining room, laundry and recreational facilities, and a health centre.